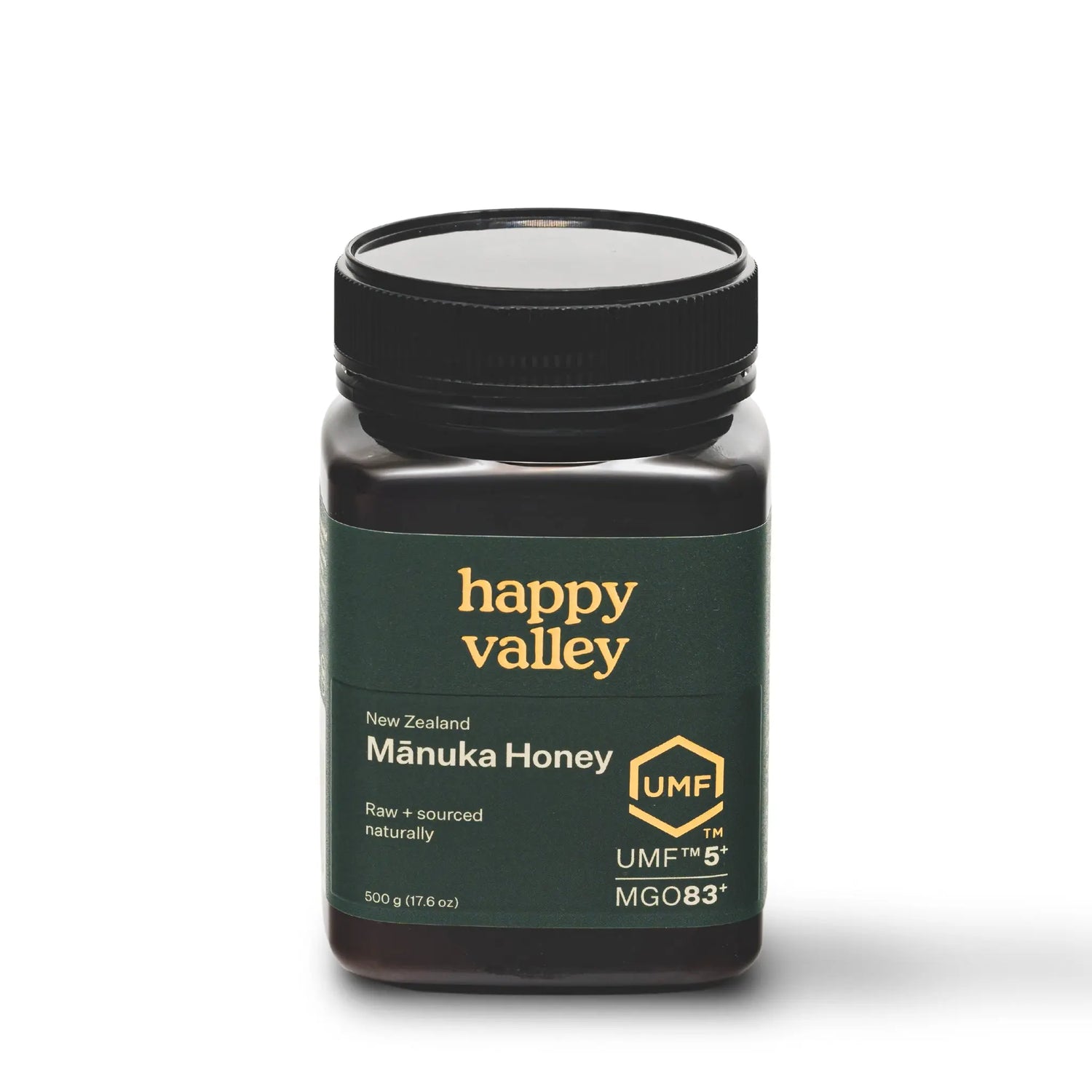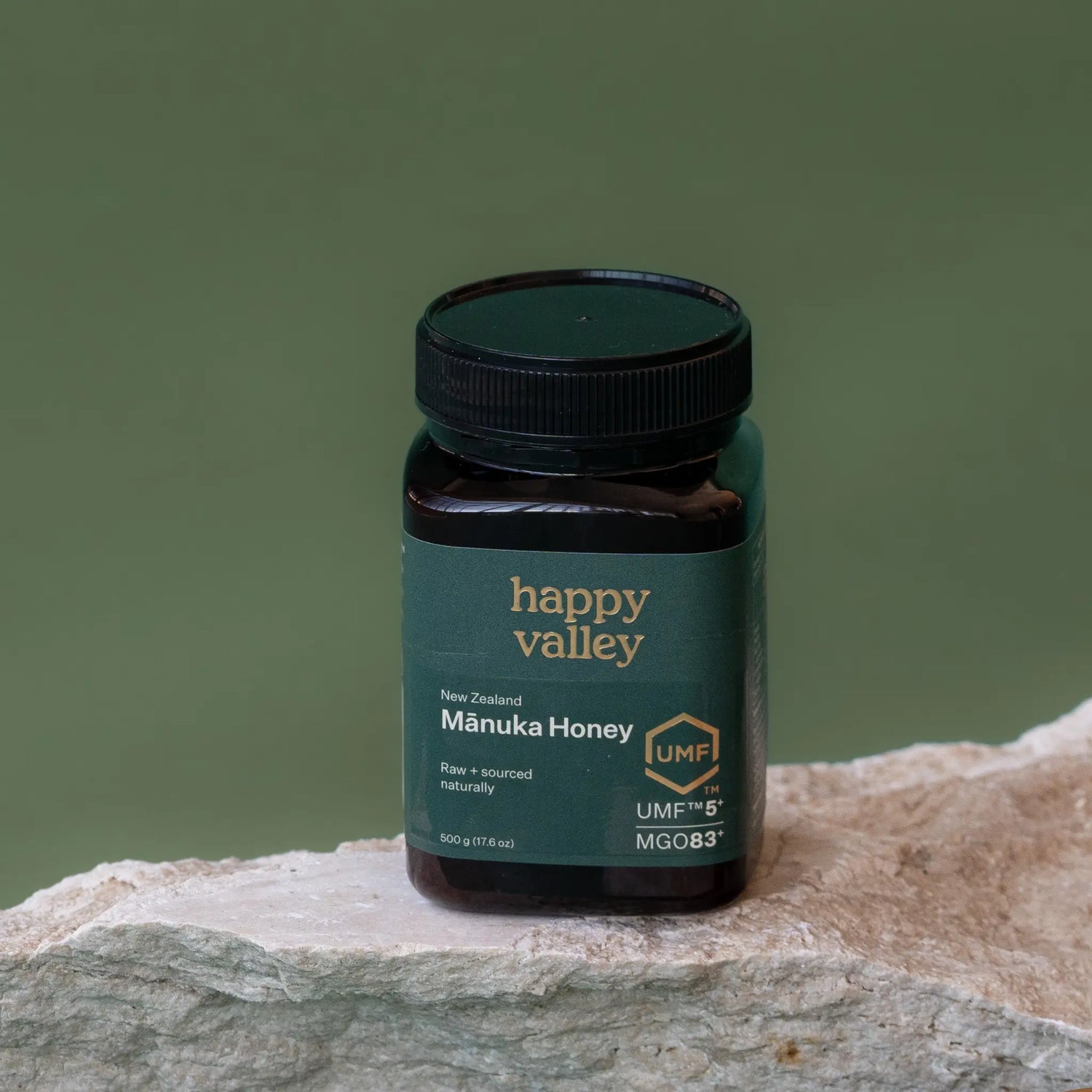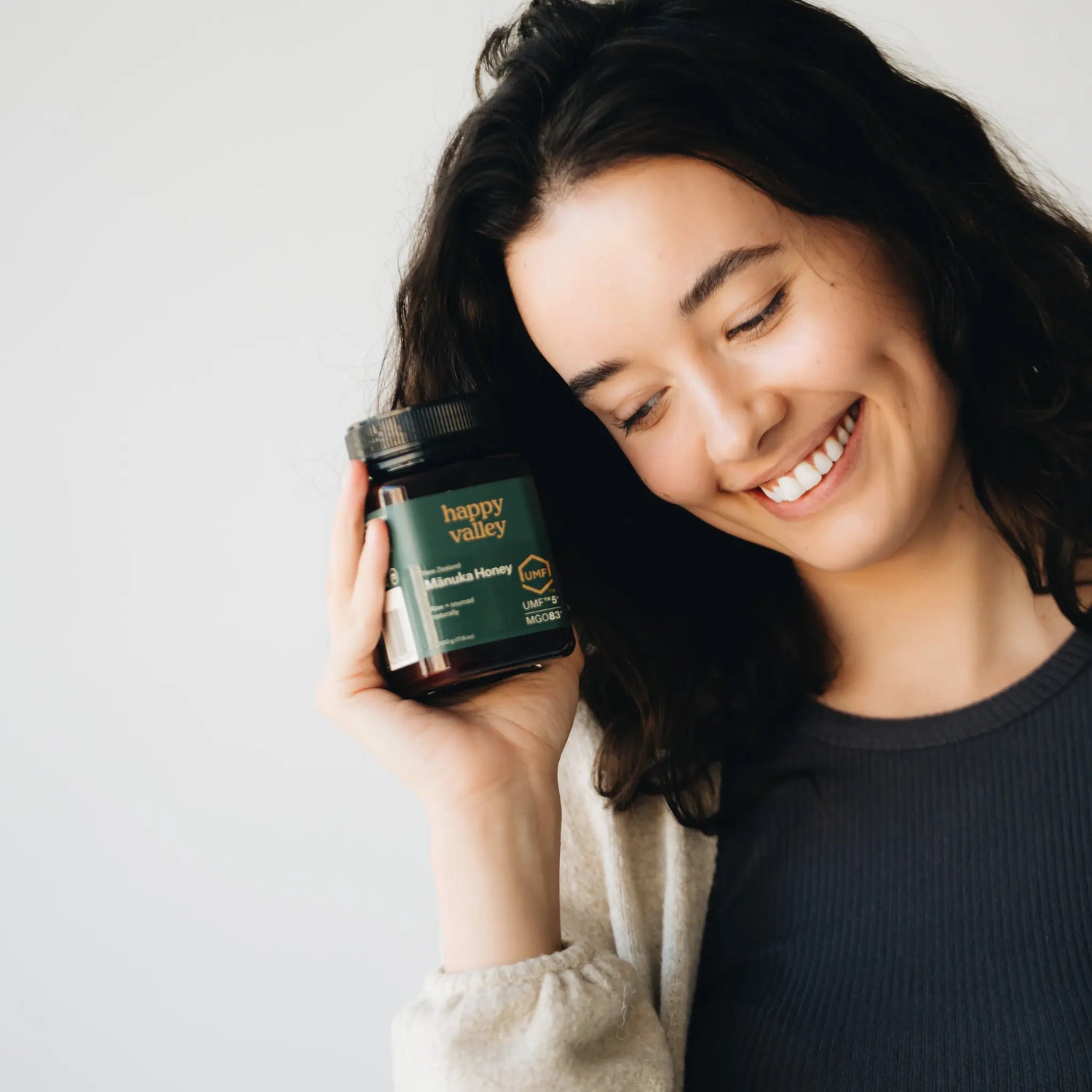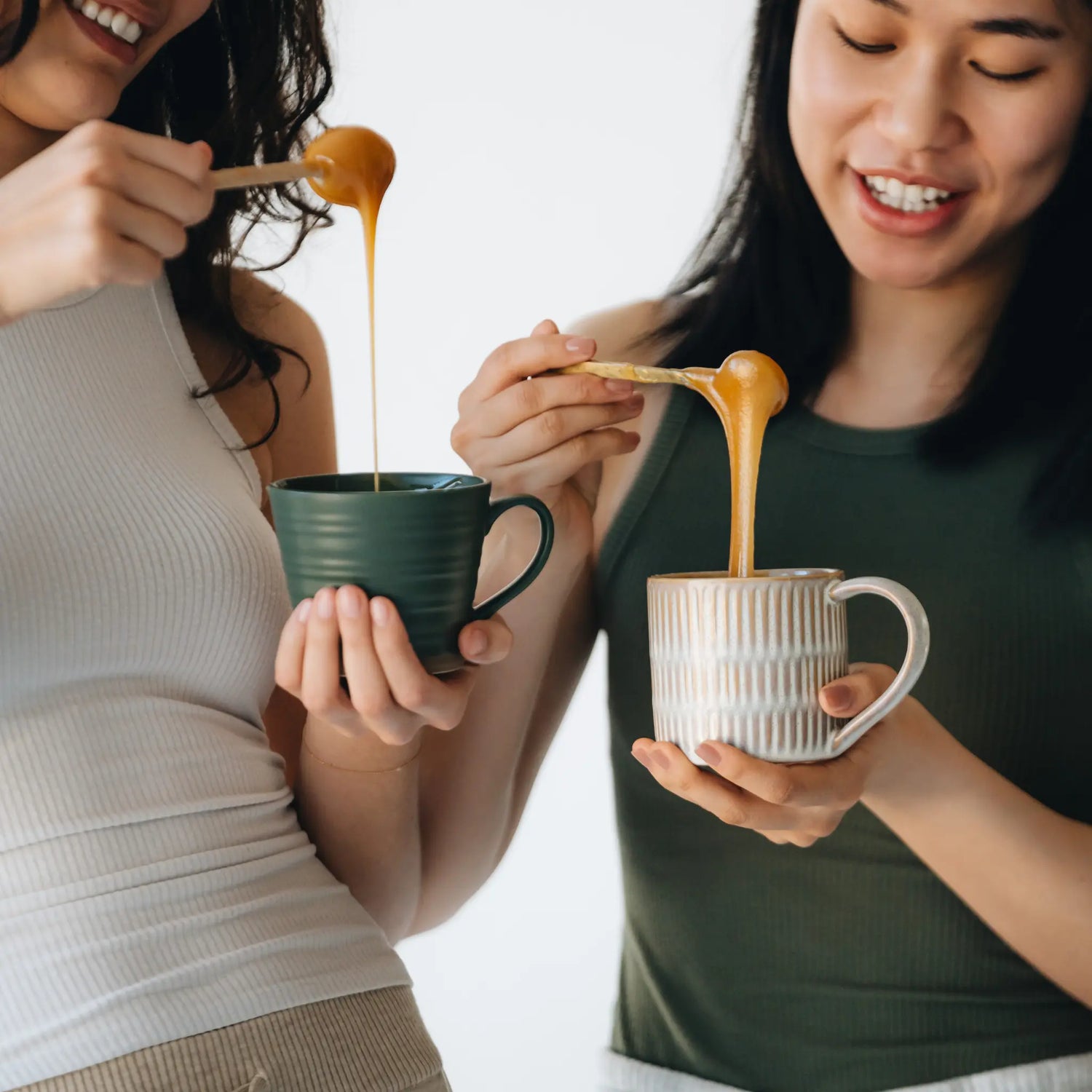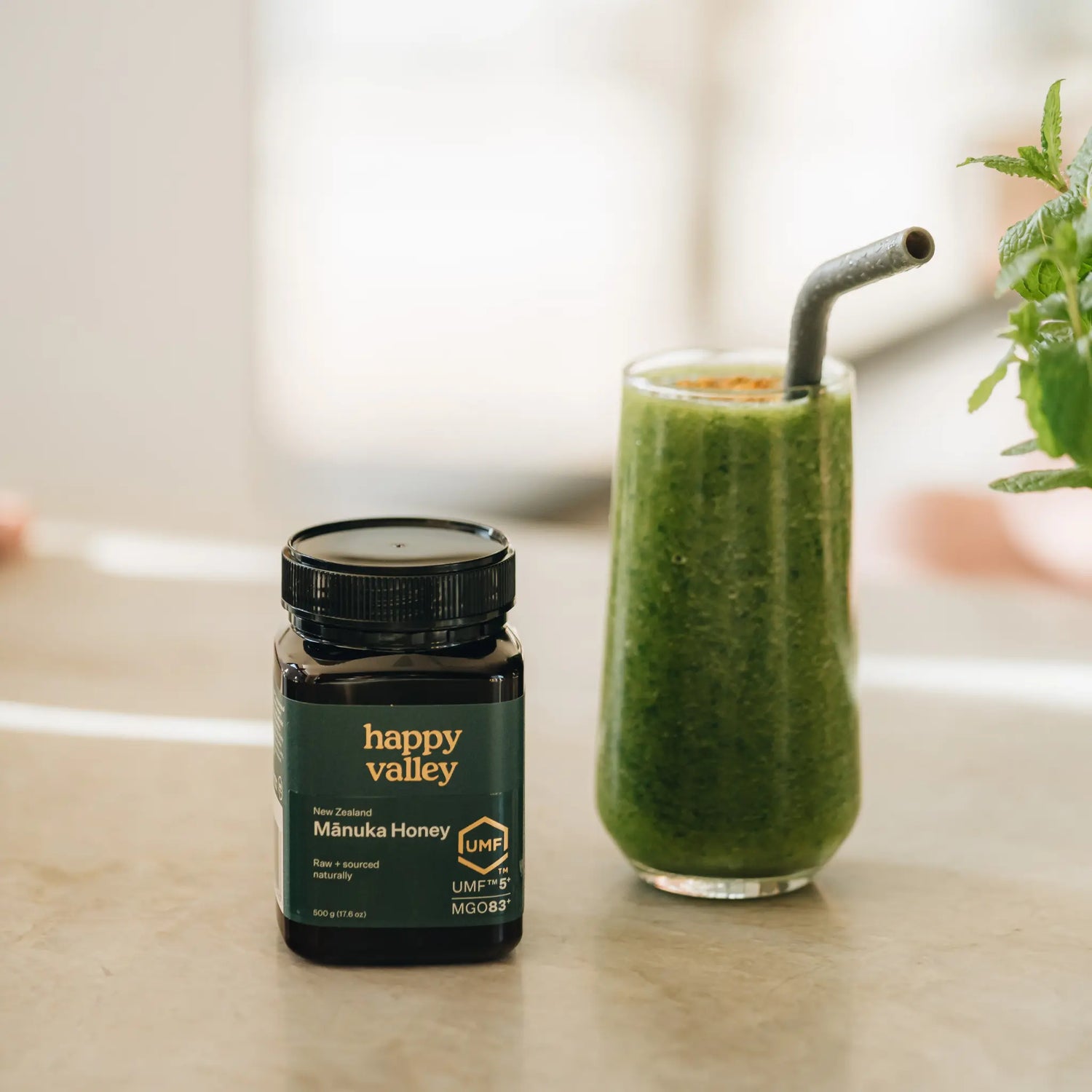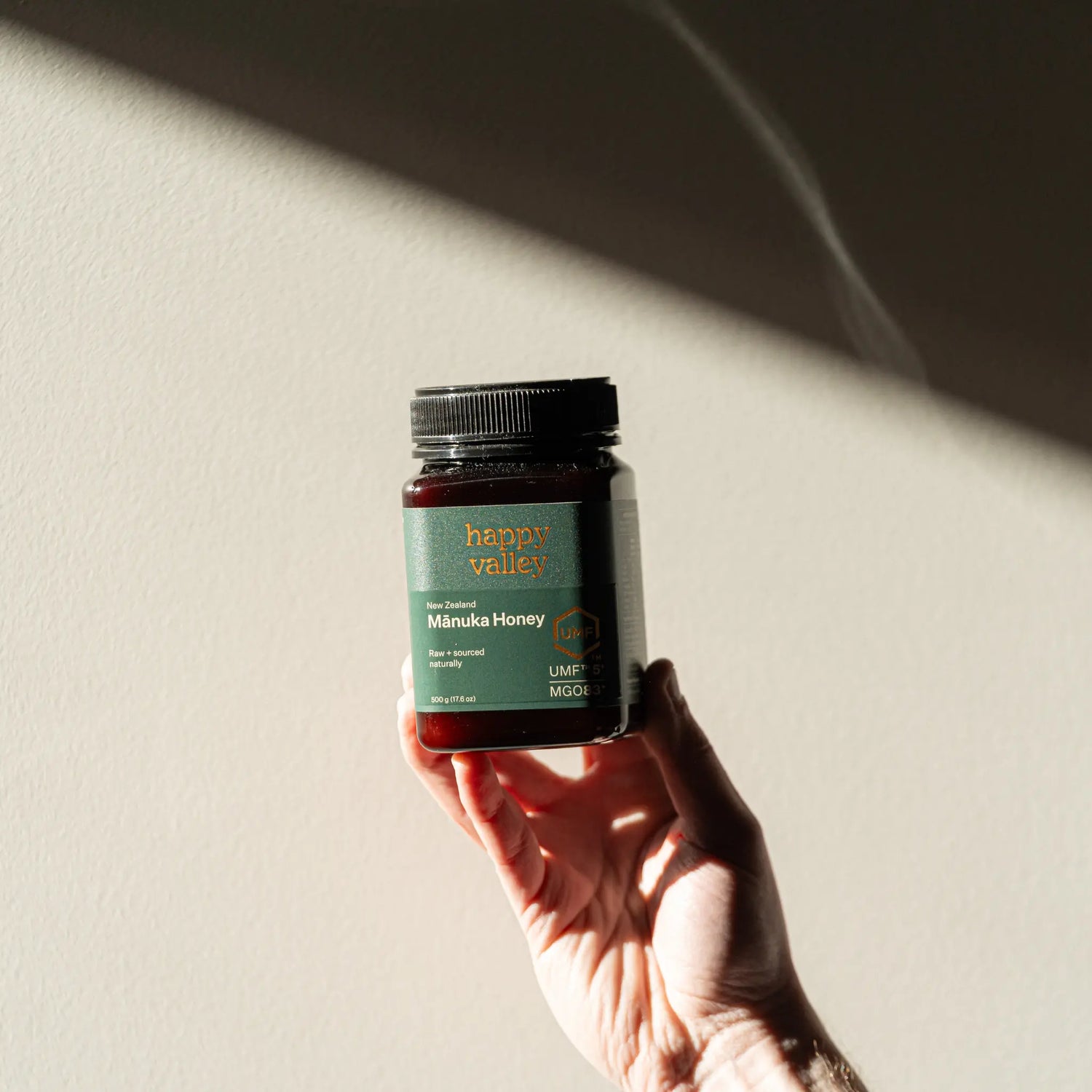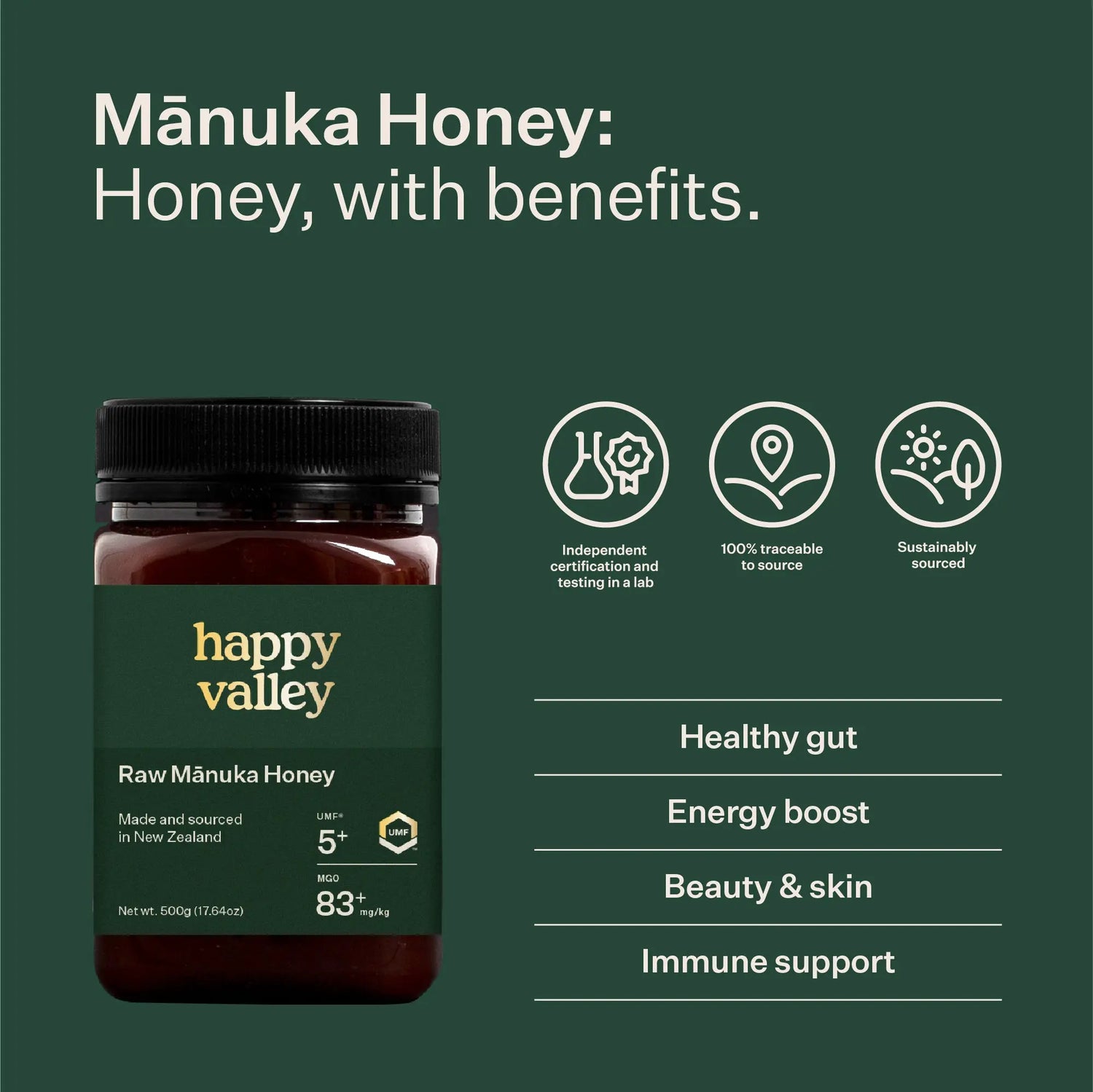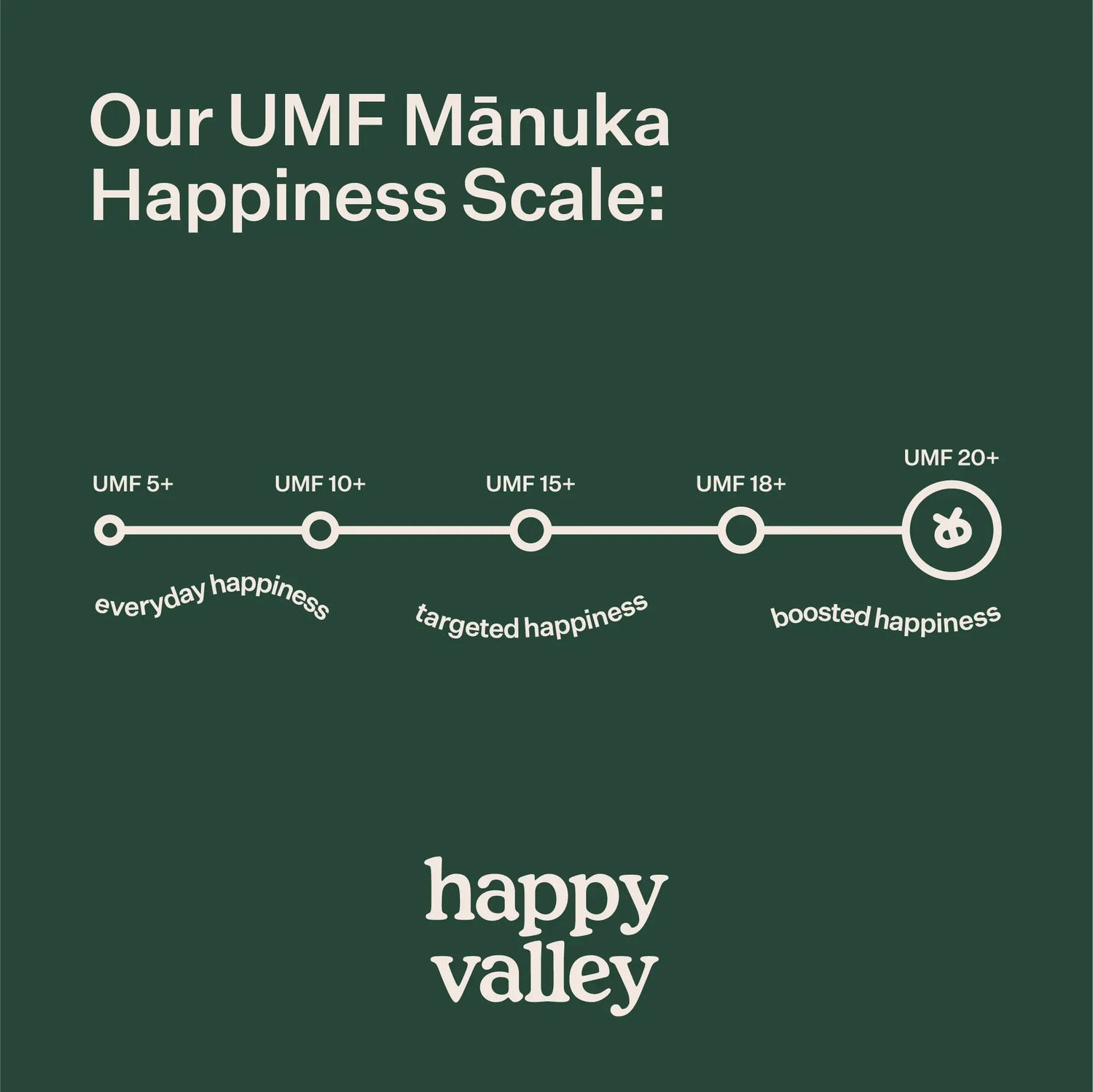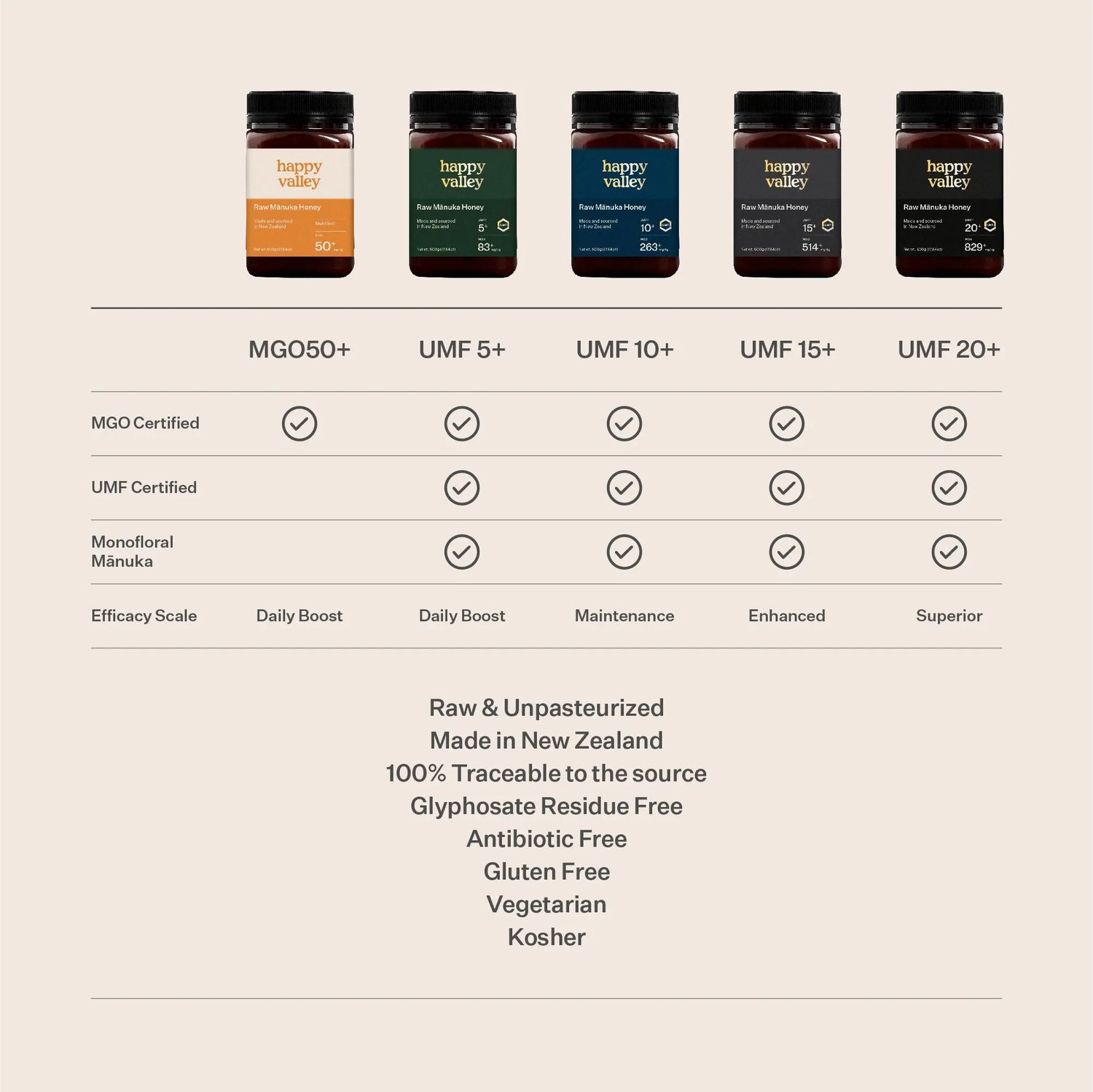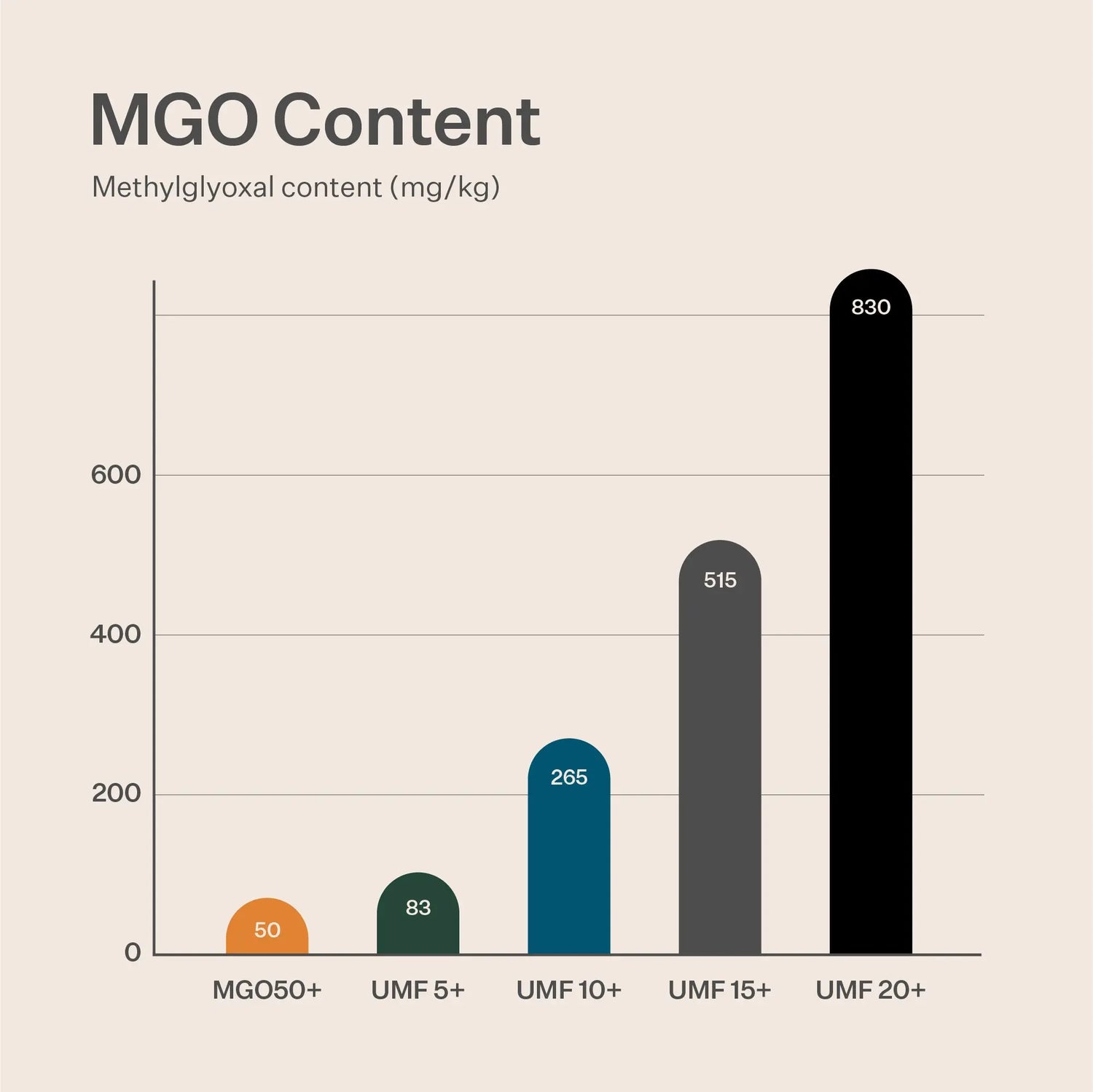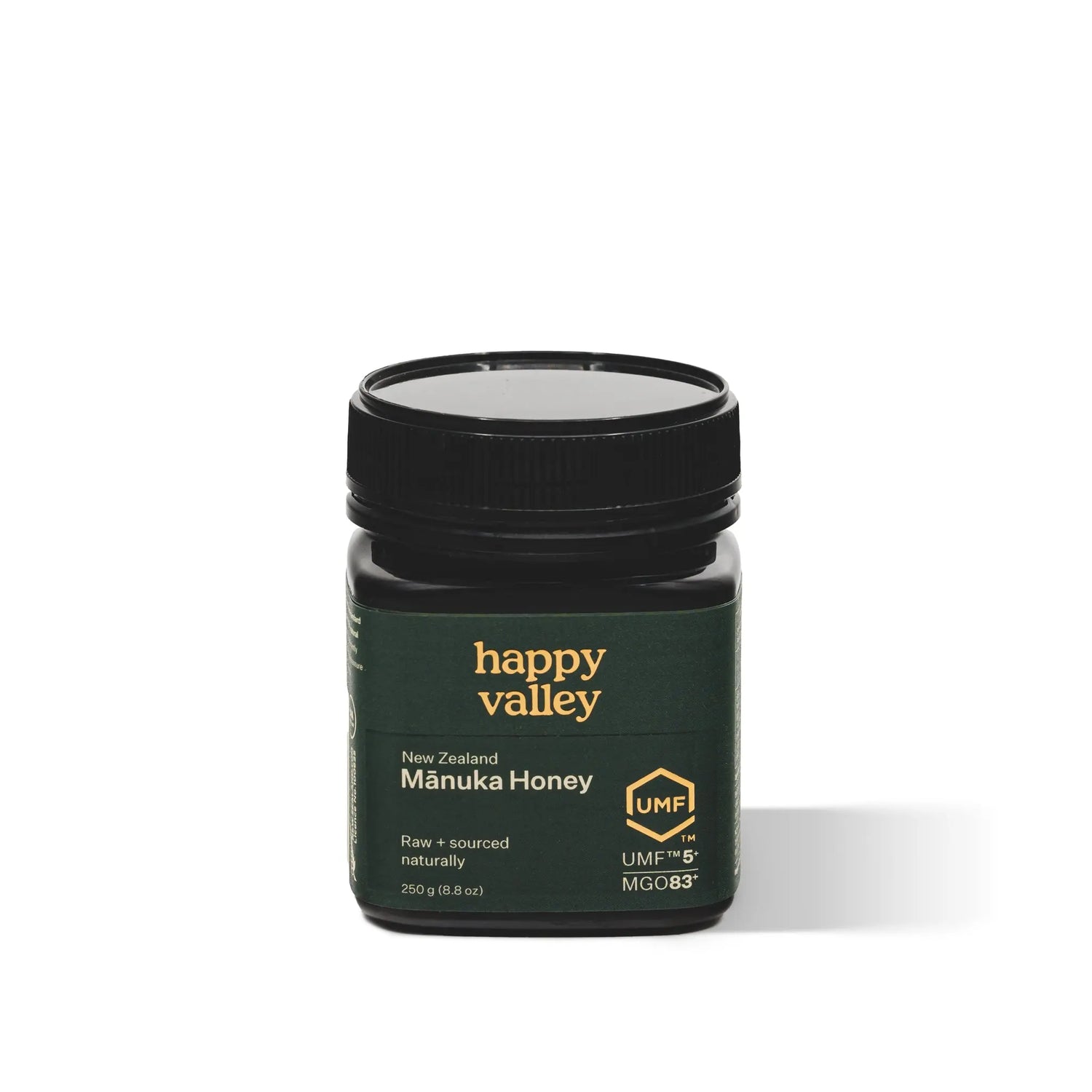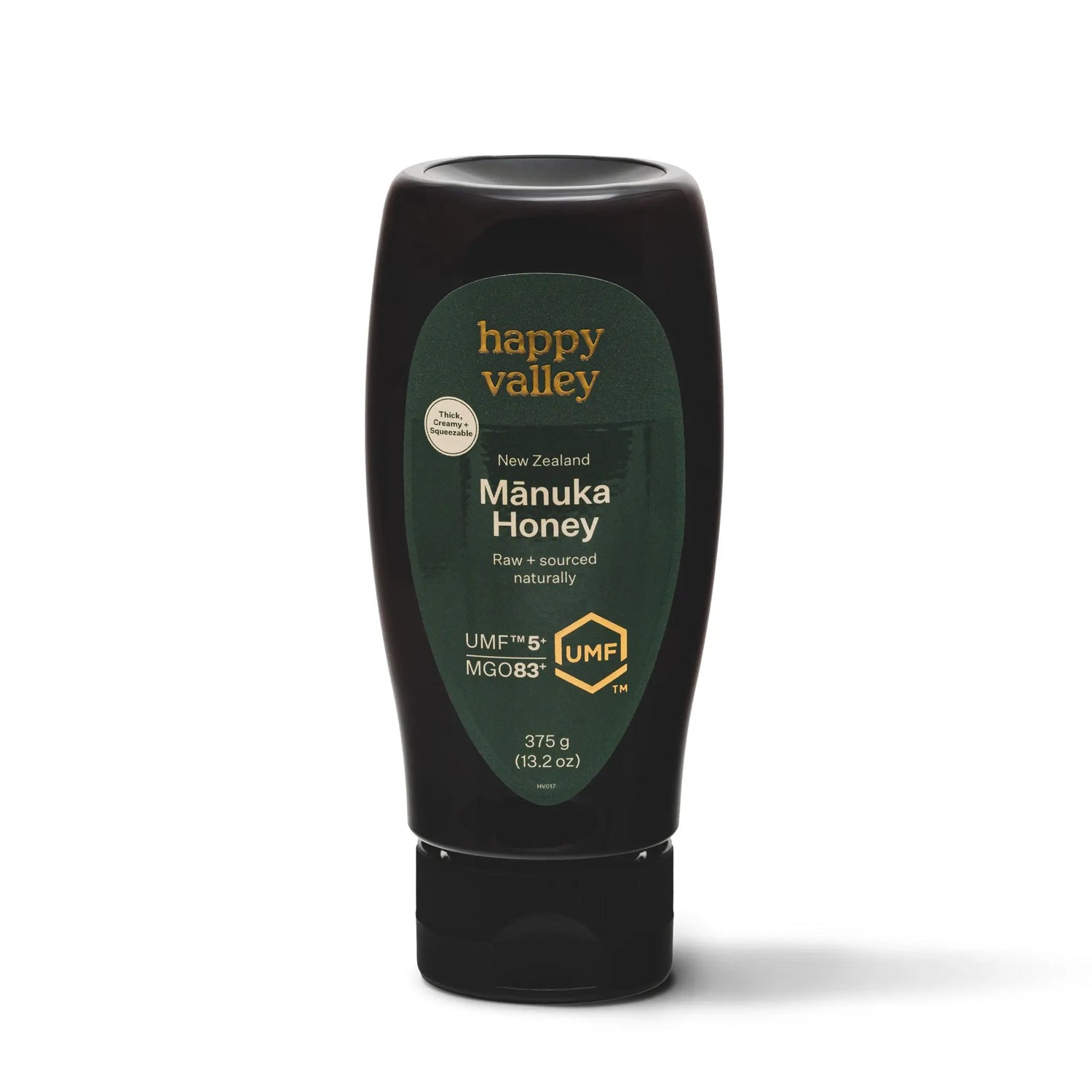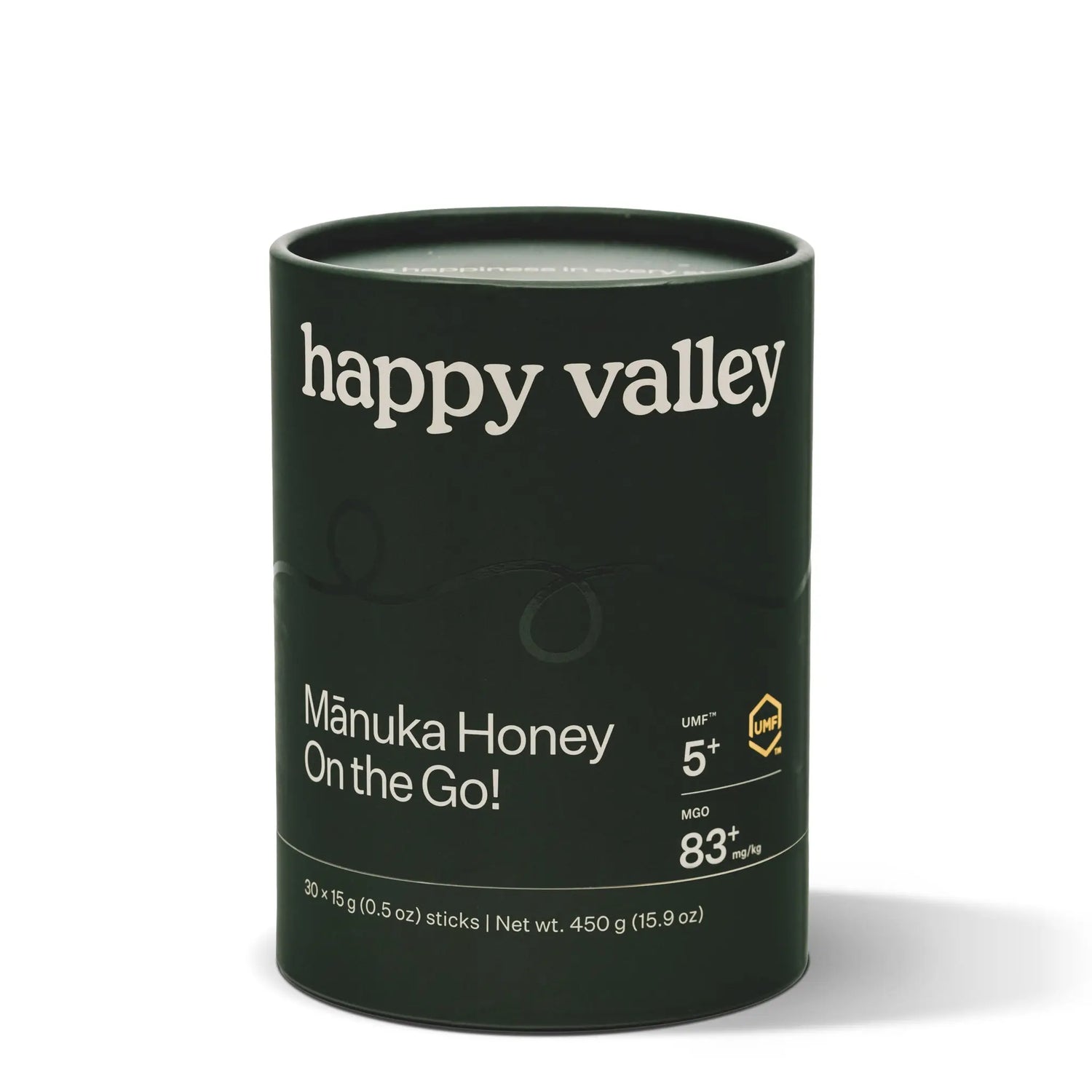 UMF 5+ Mānuka Honey
The natural and unique benefits of UMF® 5+ Mānuka Honey can help support your well-being. A spoonful of Mānuka honey rated UMF® 5+ daily. The consistency of UMF® 5+ Mānuka Honey makes it a perfect - and delicious - addition to your desserts, yoghurt, granola and cereal. Or, just drizzle it over fruit or toast. Like a fine wine, the flavour of UMF® 5+ Mānuka Honey improves over time. How can a product with so many benefits taste so delicious?
Benefits

Healthy Gut

Energy

Beauty & Skin

Immune Support
FAQs
Is your Manuka Honey raw?
>
Yes, our Manuka Honey is 100% raw. This means it's not pasteurized or processed in any way that could degrade its beneficial nutrients and enzymes. We carefully extract the honey from the hive and bottle it while preserving its natural properties. Our raw Manuka Honey contains all the unique qualities that make it one of the most sought-after honeys in the world.
Do you have your own hives?
>
Yes, our company has been Beekeeping for over 60 years. We have 6,000 + hives positioned on native manuka honey and collect up to 30,000 kgs annually. Our team of 30+ beekeepers work to harvest and extract the honey. We then pack our honey ourselves - so you can be sure we know the source and quality of our honey from the hive to your table.
How can I ensure the authenticity of UMF 5+ Manuka Honey?
>
Authentic UMF 5+ Manuka Honey comes with a UMF trademark label, which guarantees that it's produced in New Zealand and meets the UMF Honey Association's stringent quality standards. We are an accredited UMF member.
No. Honey is one of the very few food sources that does not spoil. However, it does need to be stored correctly otherwise you will find your honey returning to its natural state — where it goes lumpy and surgery. This is perfectly normal, as when it's in the hive it goes from liquid to thick and sugary depending on the temperature.
We recommend storing your honey under 19.5 degrees Celsius in a cool dark place.
All of our products have a Best Before date printed as we have to comply with Food Labelling guidelines. In the case of our UMF Mānuka range, the BB date is to ensure your honey still meets the claims on pack by the BB date.
All of our well-being products have a BB date and we recommend you consume by that date for maximum effectiveness.
All of our skincare has a 12 months after opening BB date- so we recommend that once the product is opened, it is used within 12 months.
Why choose Manuka Honey from New Zealand?
>
Manuka honey is unique to New Zealand. It is the only way to ensure you are purchasing genuine Manuka. New Zealand's pristine environment provides the perfect conditions for bees to produce the highest quality Manuka Honey. Our UMF 5+ Manuka Honey is sourced directly from these untouched landscapes.
Nutritional Info
• A tablespoon of honey provides approximately 64 calories • Honey contains trace amounts of protein (0.3g), total fat (0g) • In terms of macronutrients, honey has no fat and protein. It contains about 17 grams of carbohydrates per serving. • Honey is rich in vitamins and minerals, such as riboflavin (1% of the Daily Value). • Honey is cholesterol-free, low in saturated fat, and low in sodium.
Ingredients List
100% Pure, Natural and Raw Manuka Honey from New Zealand
Benefits
Manuka honey has been recognized for its prebiotic properties, supporting the growth and maintenance of probiotic bacteria in the gut. (Sources: Cambridge.org, MDPI.com.)
Manuka Honeys unique properties can help attract and retain moisture, which results in hydrated and nourished skin by enhancing skin health and supporting its rejuvenation. Incorporating UMF 5+ Manuka honey into your skincare routine may help achieve a glowing, healthy complexion.
Honey can serve as a natural and healthier alternative to artificial sugars. It can be used as a sugar replacement in cooking, baking, tea and coffees and to make natural gummies.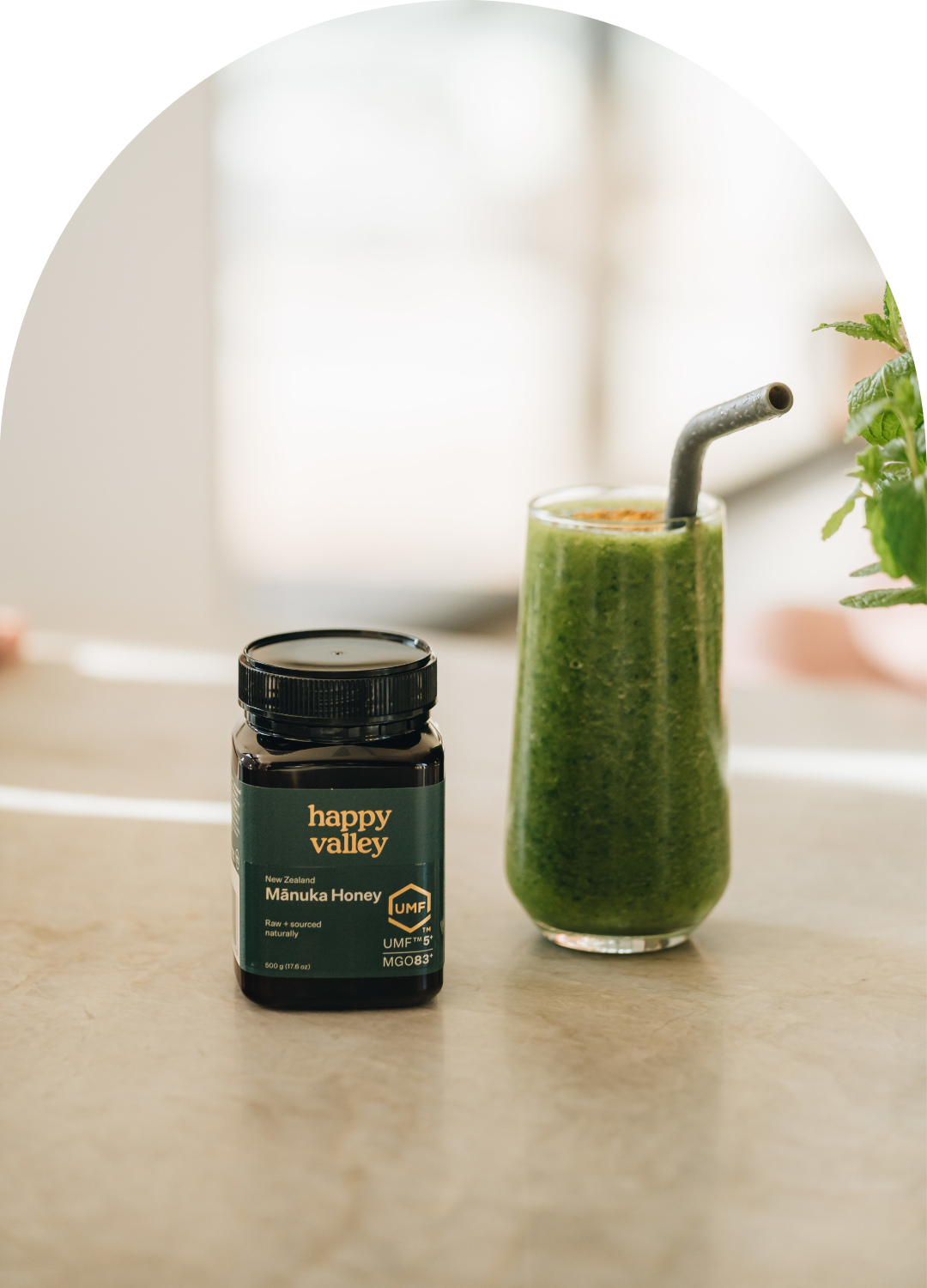 UMF® 5+ Mānuka Honey The Unique Mānuka Factor.
UMF 5+ Manuka Honey contains higher levels of unique compounds like Methylglyoxal (MGO) and Leptosperin, which contribute to its added benefits that differentiate it from regular honey. The UMF® Honey Association of New Zealand issues the UMF® (Unique Mānuka Factor) ratings. These ratings indicate the purity, quality and authenticity of all Mānuka honey products. The UMF® rating also depends on the presence of these key markers - Leptosperin, DHA and Methylglyoxal (MGO). MGO is the compound that gives Mānuka honey its remarkable beneficial qualities.
We follow the guidelines set by the UMF® Honey Association of New Zealand. Our genuine New Zealand UMF®® 5+ Mānuka honey labels show each product:
Meets MPI - New Zealand Government's monofloral definition
Meets UMF® quality & purity definitions
Is packed in New Zealand, in our own RMP Facility
Shows origin and traceability information
Happy Valley Mānuka honey is available in UMF® 5+, UMF® 10+, UMF® 15+, UMF® 18+ and UMF® 20+. The higher the grade, the more targeted the usage.
Ingredients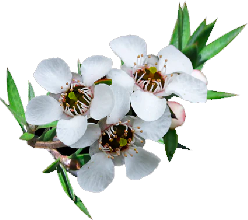 Mānuka honey comes straight from the nectar of the New Zealand Mānuka bush (Leptospermum scoparium). Honey bees forage the nectar of the flowers that bloom on the Mānuka bush for only 2 to 3 months a year. 2
This nectar contains unique plant phenols, which give New Zealand Mānuka honey its special properties. And makes UMF® 5+ Mānuka Honey one of mother nature's best superfoods!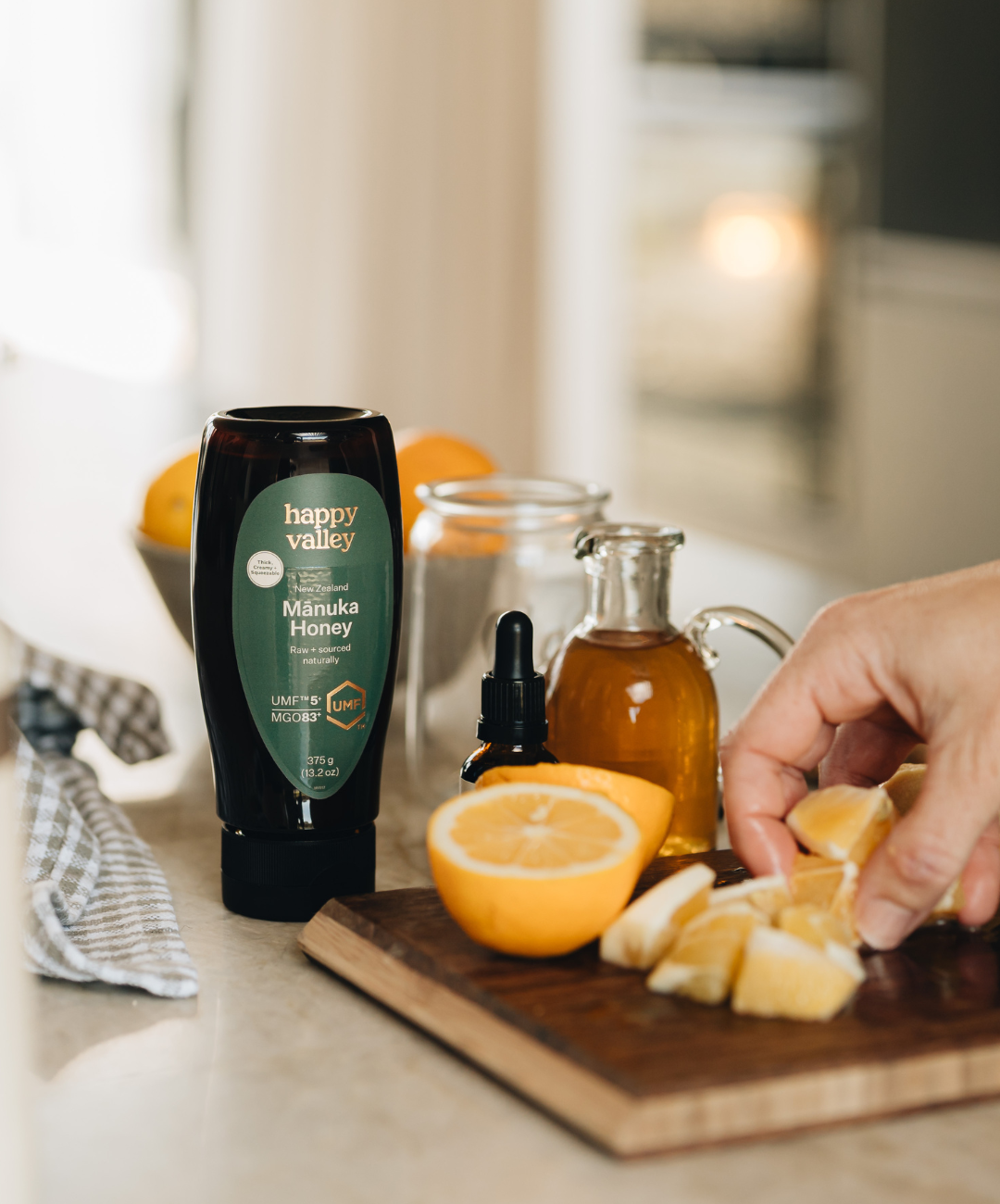 Mānuka Honey UMF® 5+ Usage Ideas
Help support your wellbeing by adding 1-2 tablespoons of UMF® 5+to your daily routine. UMF 5+ Manuka Honey can be enjoyed straight from the spoon or added to food and drinks. However, if adding it to hot drinks we advise you to mix with some cold water and top with hot water (rather than mixing with boiling water as heat can diminish its unique properties). Or try these great ideas: Use Mānuka honey to create a moisturising DIY face mask Add UMF® 5+ Mānuka honey to your post-workout smoothie or for a mid-afternoon snack.
Try UMF®
5+ Mānuka Honey for Yourself
UMF 5+ Manuka Honey is renowned for its unique properties. UMF 5+ Manuka Honey contains higher levels of unique compounds like Methylglyoxal (MGO) and Leptosperin, which contribute to its health benefits and differentiate it from regular honey. Our certified UMF® 5+ Mānuka Honey is of incredible quality at a price you can afford. We're sure you'll love the taste - just read our customer reviews! Join our happy customers and order our UMF® 5+ Mānuka Honey products today. Visit our shop in Auckland. Or place your order online - we offer shipping to New Zealand and worldwide. Still, have questions? Read our FAQs or reach out to our friendly team for more information on New Zealand Mānuka honey.
Happy Rewards
Welcome to our Happy Rewards program. As a member you'll earn points for your purchases. We'll reward your ongoing support with exclusive member - only gifts, 25% off on your birthday, and a complimentary UMF 5+ Manuka 500g for every 1000 points earned.
Choosing a selection results in a full page refresh.
Opens in a new window.